(Nanotechvietnam.com) – The salinity of sea water is the main cause of corrosion of coastal structures and also causes damage to concrete structures and coastal and island structures.
Salty salts are invasive, causing damage to materials
Our country has a coastline of more than 3200 km, the number of works working in the marine and coastal environment is increasing. The declining life of marine structures and concrete types working in the marine environment is receiving more and more attention.
Residential buildings, seaports, lighthouses, etc., around marine areas, have more than 50% of reinforced concrete structural parts corroded and destroyed after only 10 to 30 years of use.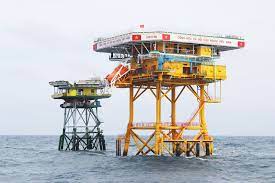 Studying in the completely submerged area, the water up and down and the waves, the authors have pointed out the cause, mainly due to the carbonation processes that reduce the pH of the concrete over time, breaking the receptor membrane. The action has the effect of protecting the reinforcement, accelerating the corrosion of the reinforcement leading to structural destruction.
Also due to the cause of sulphate corrosion, the mineral expands and causes structural damage. In addition, it is also due to the diffusion of oxygen, Cl ions and moisture into the concrete under conditions of high air temperature, the process of microbial corrosion, mechanical corrosion due to waves, leaching corrosion, etc.
Solution to take concrete to protect reinforcement
The common opinion of researchers on anti-corrosion for concrete and reinforced concrete structures is to protect concrete, taking concrete to protect reinforcement.
According to the data of Vietnam Large Dam Association (vncold), cThe authors have proposed basic solutions, strictly complying with the regulations, such as using sulphate-resistant cement, in addition to proposing additional waterproofing, such as plastering waterproofing mortar with polymer emulsion phase; anti-corrosion paint reinforcement; paint cement, paint cement-polymer, paint high-molecular chemicals, ensure the ability to bond between painted reinforcement and concrete, paint the outer surface of the structure; use calcium nitrite corrosion inhibitors; Using composite materials to replace conventional concrete…
The authors also propose to study the use of dispersed fiber reinforced concrete (steel and polypropylene fibers) in the repair process through a number of studied technical characteristics. advantages of reinforced materials (steel and polypropylene fibers).
It can be seen that in the waters of Vietnam, the impact of environmental erosion is very strong, leading to corrosion and destruction of structures. For example, the salinity of surface seawater in the Bach Long Vi sea, on the 17th parallel in winter, is up to 33.6%. The research team's finding of preventive measures to prevent corrosion of steel reinforcement in sea and island works is a matter of great significance to Vietnam's economic-defence cause.
More articles for reference: