Construction works are constructed, safety and durability factors are always concerned and put on the top by investors. Besides, anti-heat in factories and workshops is also chosen by investors, because this is a solution that not only helps reduce heat, prevent heat, rust, and increase the life of corrugated iron roofs. At the same time, the anti-heat coating also helps factories and factories to limit the risk of fire and explosion. If you do not know anything about this anti-heat solution, let's refer to the article below!
What is heat resistant paint?
Heat-resistant paint, also known as heat-insulating paint, is a paint that has a film-forming component that insulates and reflects sunlight. This type of paint is painted on surfaces that are directly exposed to the sun such as corrugated iron roofs, wall planes, terraces, etc., reducing the temperature of the surfaces to low, helping to protect goods and copper. creating a comfortable feeling for the people in the room.
The effectiveness of heat-resistant paint application
Hot weather not only affects your health but also affects your work. The construction of anti-heat paint is very necessary for workers and goods inside factories and workshops. Specific effects are as follows:
Create a comfortable feeling, a pleasant atmosphere for workers in factories, workshops, etc., thereby increasing work productivity and efficiency.
Hàng hóa được bảo vệ ở nhiệt độ thích hợp, tránh được những hư hỏng.
Helping factory owners save costs effectively, from electricity costs to the cost of compensating for damaged goods and materials due to high temperature.
Helps prolong the life of the corrugated iron roof, limiting rust.
Heat resistant paint is currently the optimal solution used by many customers and investors. If you want to know more about product information, contact us immediately for the fastest advice!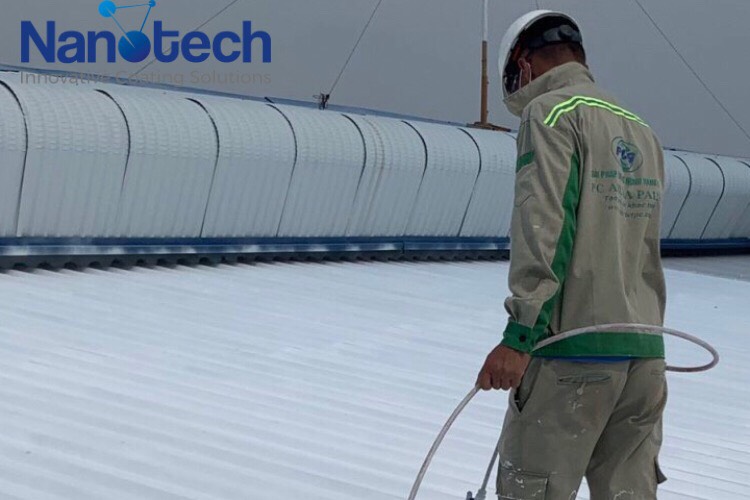 Advantages of corrugated iron roof heat resistant paint
Based on research and experiments of experts, heat resistant paint for corrugated iron roof possesses the following advantages:
Giảm nhiệt độ từ 12 -26 độ C trên bề mặt mái tôn, tăng năng suất làm việc của nhân công.
Anti-mold, reduce noise in heavy rain
Environmentally friendly paint
Ensure durability and aesthetics for corrugated iron roofs.
Save electricity and water costs, better preserve goods and furniture in the factory.
Once you have grasped the advantages of heat-resistant paint for corrugated iron roofs, you will definitely make a decision to build your factory.
Apply heat resistant paint to any surface?
When conducting heat-resistant construction, you need to pay attention to the surface when using paint, including:
Corrugated iron roof, corrugated iron wall.
Building wall.
Roof tile floor.
Roof concrete floor
To know more about the product, please contact:
NANOTECH VIETNAM JOINT STOCK COMPANY
Phone number: 0862.244.107 – 0862.244.791
Email: info@nanotechvietnam.com
Website: https://nanotechvietnam.com
Fanpage: https://www.facebook.com/nanotechvietnamjsc